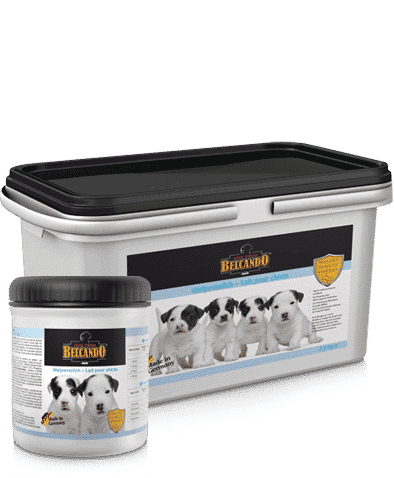 Belcando Puppy Milk – Puppy food
KSh3,300
BELCANDO puppy milk is a particularly good soluble powdered milk.
Description
Description
Belcando Puppy Milk
For raising motherless puppies
illness or lack of milk of the mother
Our quality promise:
Product features of Belcando Puppy Milk
With the unique BELCANDO puppy protection formula for more reassurance in raising puppies. The digestive system is still very sensitive in the first weeks of life. BELCANDO puppy milk contains carefully selected and easily digestible milk proteins, as well as an adjusted lactose content which helps to relieve the digestive system. Natural yeast ingredients (? 1.3/1.6 glucan) are used to support your dog?s immune defences in the early days.
Nutritional analysis of Belcando puppy milk
Composition
Vegetable fat, Whey protein concentrate, Skim milk powder, Dicalcium phosphate, Dried algae ( Schizochytrium sp.), Yeast extracts
Analytical constituents
Protein 33.0 %, Fat content 39.0 %, Crude fibre 0.2 %, Crude ash 7.0 %, Calcium 1.10 %, Phosphorus 0.80 %, Lactose 17 %
Additives per kg
Vitamin A 48,000 IU; Vitamin D3 4,800 IU; Vitamin E 500 mg; Copper (as copper(II)sulphate, pentahydrate) 16 mg; Iron (as ferrouschelate of glycine, hydrate) 45 mg; Manganese (as manganese(II)sulphate) 46 mg; Zinc (as zincsulphate) 62 mg; Iodine (as calciumiodate) 0.8 mg; Selenium (as sodiumselenite) 0.4 mg
Feeding recommendation
Puppy milk is a particularly good soluble powdered milk. Milk powder is dissolved in warm water (50-60?C) in a proportion of 1 part milk powder to 2 parts water (1 measuring cup milk powder = 15 g in 30 ml water produces 45 ml solution. Add the powder to the warm water, not vice versa!). Daily requirement of the puppies is approximately 150 ml solution per kg body weight. Feed the prepared milk solution at body temperature (38 ?C). If the milk has cooled down, rewarm it! Feed the prepared milk solution within one hour