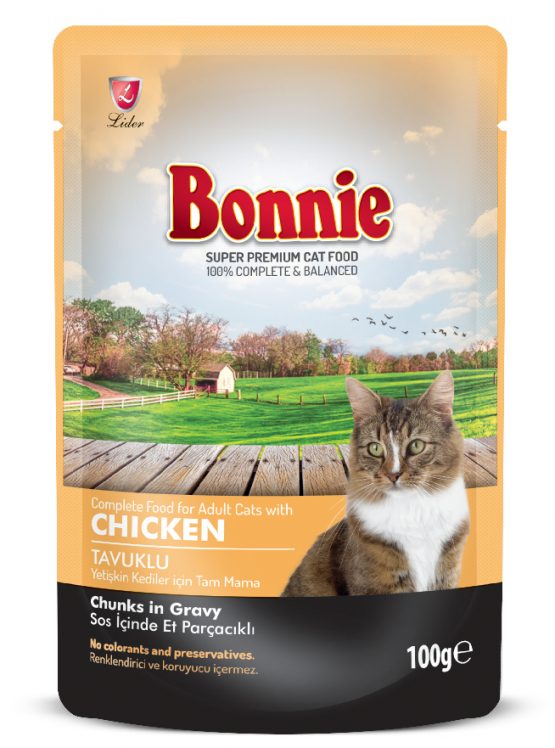 Bonnie Pouch Beef in Gravy for Cats
KSh110
Bonnie Pouch Beef in Gravy for Cats is a high protein, low grain meal, specially formulated for kittens. Make your order today.
Weight: 100g
Description
Description
Bonnie Pouch Beef
Fully-balanced, beef protein-containing canned (wet) cat food carefully formulated by pet nutritionists to meet the nutritional requirements of all adult breeds.
Description
COMPOSITION: Meat and animal derivatives (beef 5%), minerals, inulin (0.1%).
 ANALYTICAL CONSTITUENTS
 NUTRITIONAL ADDITIVES
Crude Protein
 8,5%
Vitamin D3
250 IU/kg
Fat Content
4,5%
Vitamin E
 15 mg /kg
Crude Fiber
 0,3%
Copper
1 mg/kg
Moisture
 83%
Manganese
1 mg/kg
Crude Ash
 2,5%
Zinc
15 mg/kg
Biotin
20 µg/kg
Taurine
445 mg/kg
Every cat is different and shows independence in how, what, when and where it feeds!? However, there could be some common tips to help you get your paces.
1. Always provide Clean, fresh water at a place your cat (and every other pet) can easily reach.
2. Always refrigerate wet canned foods after opening, and ensure full use within 2 days.
3. For Dry pet foods, store remainders in re-sealable packets, or air tight containers up until the best before date.
4. Do not overfeed your pet with treats, or any other food for that matter.
5. Always keep food and water bowls clean, wash and rinse them well, separately from human food dishes. Plastic bowls may have to be replaced periodically.
6. Feed an amount to maintain good body condition.