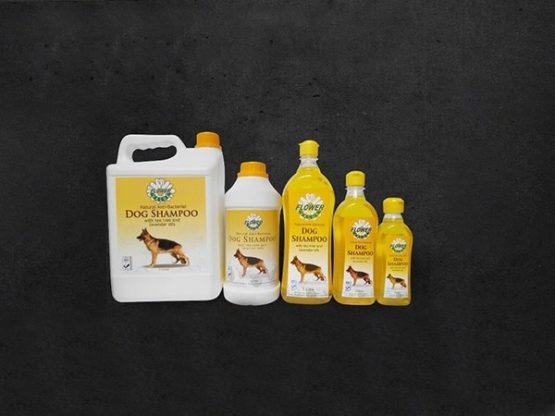 Flower Antibacterial Shampoo 500ml
KSh326
Flower Anti-Bacterial Shampoo comes from the makers of Dudu-krin is a hypoallergenic shampoo formulated with refined Kenyan pyrethrum extract and contains 0.5% w/w pyrethrins. It contains teatree and lavenda oils leaving your dog smelling nice and fresh.
Description
Description
Flower AntiBacterial Shampoo comes from the makers of Dudu-krin. It contains teatree and lavenda oils leaving your dog smelling nice and fresh. This Flower Antibacterial Shampoo for dogs is antimicrobial formula fortified with natural essential oils of Tree Tea & Lavender. As a result, it effectively protects your pet from the spread of harmful germs, bacteria and to help eliminate pet odor. The unique combination of Lavender and tea tree oil creates a refreshing fragrance. Subsequently, this  leaves your pet smelling fresh and clean.
Why your dogs need regular baths
Bathing your dog with a quality dog shampoo is an important part of keeping your dogs skin and hair coat healthy. Bathing can prevent minor dog skin problems and eliminate odours. It can also rid pets of surface bacteria and yeast that can cause problems. Regular pet shampooing also helps wash away coat odors and can soothe the discomfort of allergies.
Ranked among Nairobi's Best Pet care service
Call us to experience our love of grooming and our consistent, personal care! The Royal Pets professional dog groomers will primp and pamper your dog in our shops or at the comfort of your home. Part of the grooming process is to do a snout-to-tail assessment, taking time to thoroughly check your pet in areas that you probably don't often look at or touch.
We understand that every pet is unique and will consult you about your dog's needs and the look you are after; whether you want a simple bath & tidy or an expert breed-specific clip, our pet stylists are committed to making your pet look their best and seeing you happy with the results.
Our services include
washing and drying,
nail trimming,
ear cleaning,
tidying of problem areas,
breed specific haircuts,
flea rinses, and more.
All with a 100% satisfaction guarantee! Grooming services are available at The Royal pets 7 days a week. Book a grooming appointment today!
A clean dog, Is a happy Dog!