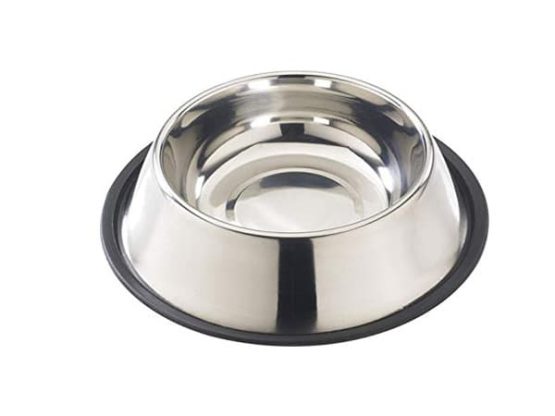 Stainless Steel Dog Bowl (small)
KSh800
Dishwasher safe

Rust resistant

hygienic and easy to clean

Use these stainless steel pet bowls for food or water.
Description
Description
If your pets are anything like mine, you can set your watch by when they start lining up for feed time. While making sure you select the best food for your dog is a major decision as a pet owner, so is selecting the best dog bowl for their food and water. There's many things to consider, including whether or not your dog needs an elevated bowl, a bowl with a non-slip mat, or perhaps a slow feeder bowl.
This stylish set of 2 high quality stainless steel bowls comes complete with a stylish silicone stand which keeps the bowls secure and also prevents your dog's food and water from spilling. The smart design won't look out of place wherever you choose to feed your dog. The feed bowls and silicone stand are both dishwasher safe, meaning you can keep your dog's feed station clean with the minimum of fuss.
Durable stainless-steel Dog Bowl for puppies, dogs, cats, or kittens

Holds up to 38 ounces; perfect for dry kibble, wet food, treats, or water

Rust resistant; offers a healthy alternative to plastic; doesn't hold odors

No-tip design; rubber base protects floors and prevents bowl from sliding while your pet eats

Dishwasher-safe for easy cleaning