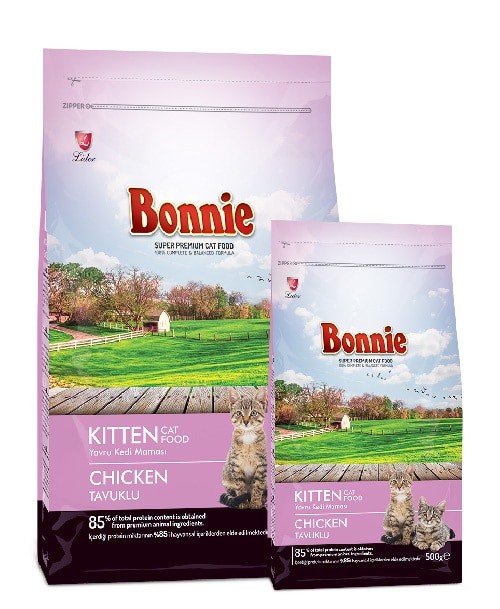 Bonnie Chicken Kitten Food
KSh450 – KSh1,300
Bonnie Kitten is a high chicken, low grain meal, specially formulated for kittens. Make your order today.
Description
Description
Ingredients: Bonnie Chicken Kitten Food 500 g, Chicken Proteins (dehydrated), Wheat, Corn, Animal Fat, Dried Beet Pulp, Corn Gluten, Liver Flavour, Salt, Linseed, Brewer's Yeast, Taurine, Yucca Schidigera, Mannan-Oligosaccharides, Beta Glucan, Preservatives – Antioxidants.
 ANALYTICAL CONSTITUENTS
 NUTRITIVE ADDITIONS (per kg)
Crude Protein
 36%
Vitamin A (E672)
18000 IU/kg
Crude Fat
19%
Vitamin D3(E671)
 1500 IU/kg
Crude Ash
 8%
Vitamin E (3A700)
200 mg/kg
Crude Fiber
3%
Vitamin C (Stay C)
200 mg/kg
Taurine
1500 mg/kg
Things to Know About feeding your Cat
Every cat is different and shows independence in how, what, when and where it feeds!? However, there could be some common tips to help you get your paces.
1. Always provide Clean, fresh water at a place your cat (and every other pet) can easily reach.
2. Always refrigerate wet canned foods after opening, and ensure full use within 2 days.
3. For Dry pet foods, store remainders in re-sealable packets, or air tight containers up until the best before date.
4. Do not overfeed your pet with treats, or any other food for that matter.
5. Always keep food and water bowls clean, wash and rinse them well, separately from human food dishes. Plastic bowls may have to be replaced periodically.
6. Feed an amount to maintain good body condition.