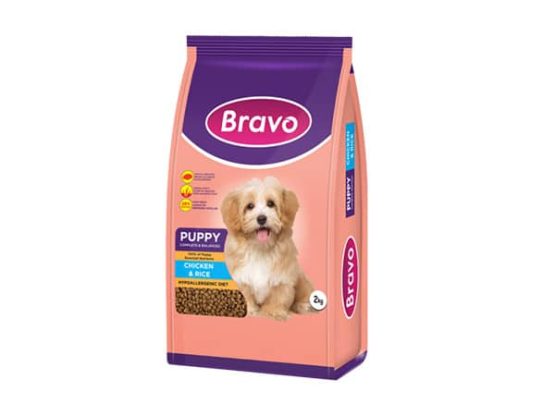 Bravo Puppy Chicken and Rice -2kg
KSh600
BRAVO PUPPY DOG FOOD – 2 kg
Bravo Puppy Dog Food is packed with tasty nutritious goodness keeping your dog UNDER 12 months active, happy and healthy, all day every day. BRAVO PUPPY DOG FOOD is locally made and always fresh.
Description
Description
The producers of Bravo puppy Pet food are pet lovers just like you are. Pets have the power to transform our lives. Essentially, daily Nutrition is the best gift you can give your puppies to make them happy and healthy always. Good food gives your pet the best fur coats and temperament… and of course complements and enhances their affections towards you.
TRUST THE BRAVO PUPPY STANDARD –

A proven commitment to quality and safety
Sigma Foods only accepts ingredients from suppliers whose facilities meet stringent quality standards and who are approved by Bravo Puppy Pet Foods. Moreover, not only is each ingredient examined to ensure its safety, they also analyse each product's ingredient profile for essential nutrients. Consequently, they ensure your pet gets the stringent, precise formulation they need. Sigma Foods conducts final safety checks on every Bravo puppy product to help ensure the safety of your pet's food. Additionally, all finished products are physically inspected and tested for key nutrients prior to release to help ensure your pet gets a
consistent product bag to bag
.
Research & Innovation
Essentially, while Bravo puppy pet foods contain high-quality ingredients, the producer's research proves that it's the proper balance of essential nutrients supplied by those ingredients that is the key to optimal health for pets. Guided by their research, they formulate their foods with a precise balance of these nutrients to meet the specific needs of pets associated with their life stage, size or special needs. Fundamentally, Sigma Foods believe in innovation and the continual improvement of their product line — it's at the heart of their core values.
Ingredients
Meat Meal
Maize
Profish Omega (Omega-3 Fatty Acids)
Soybean Meal
Beef Pulp
Brewers Yeast
Salt
Salmon Oil
Vegetable Oil
Glucosamine (245mg/kg)
Chrondoitin
Choline Chloride
Biotin
Niacin Supplement
Folic Acid
Pantothenic Acid
Methionine
Approved Antioxindants and Flavours
Vitamins
Minerals
Trace Elements
Get more info about Bravo pet food
Here